Backroads™ 30-Can Soft Cooler Tote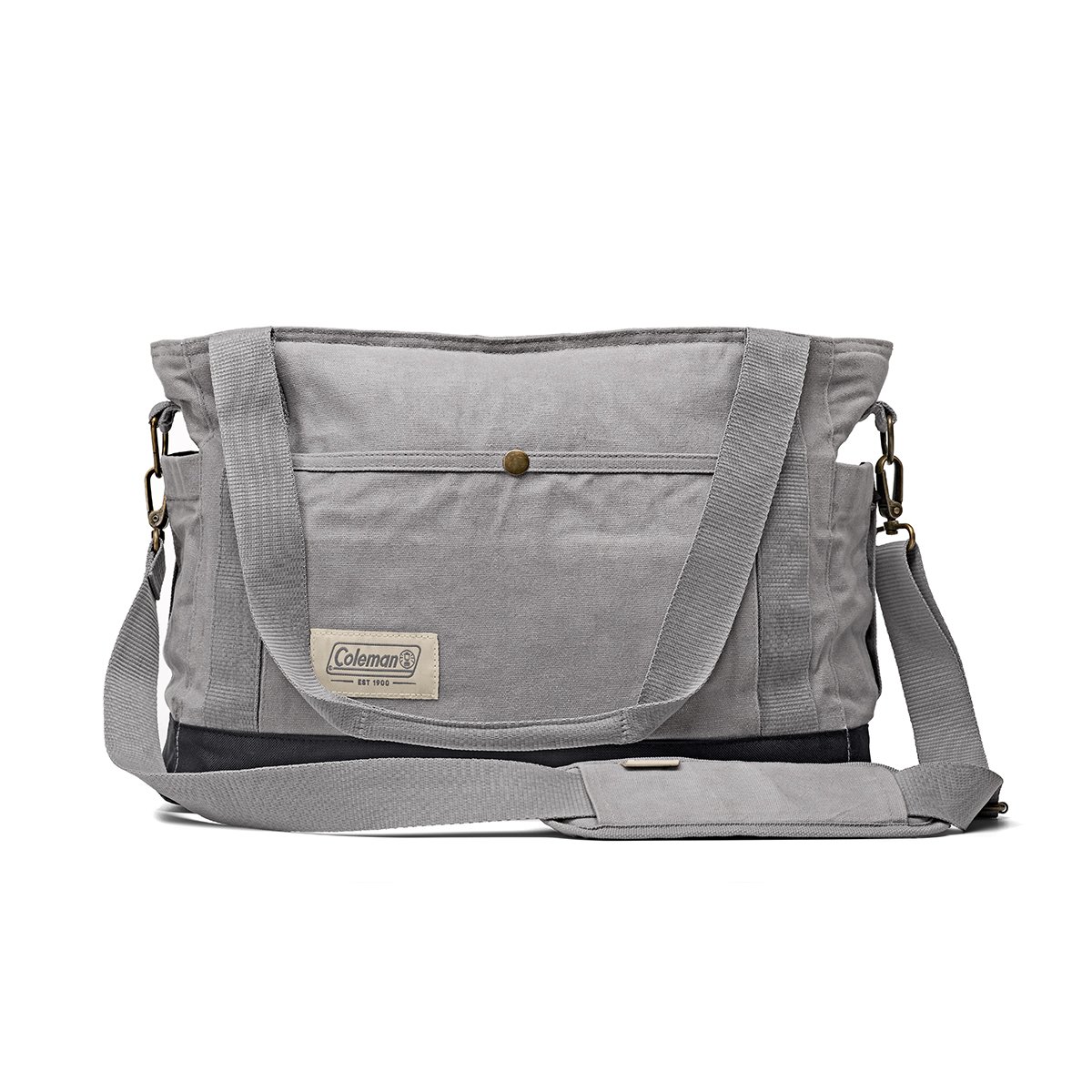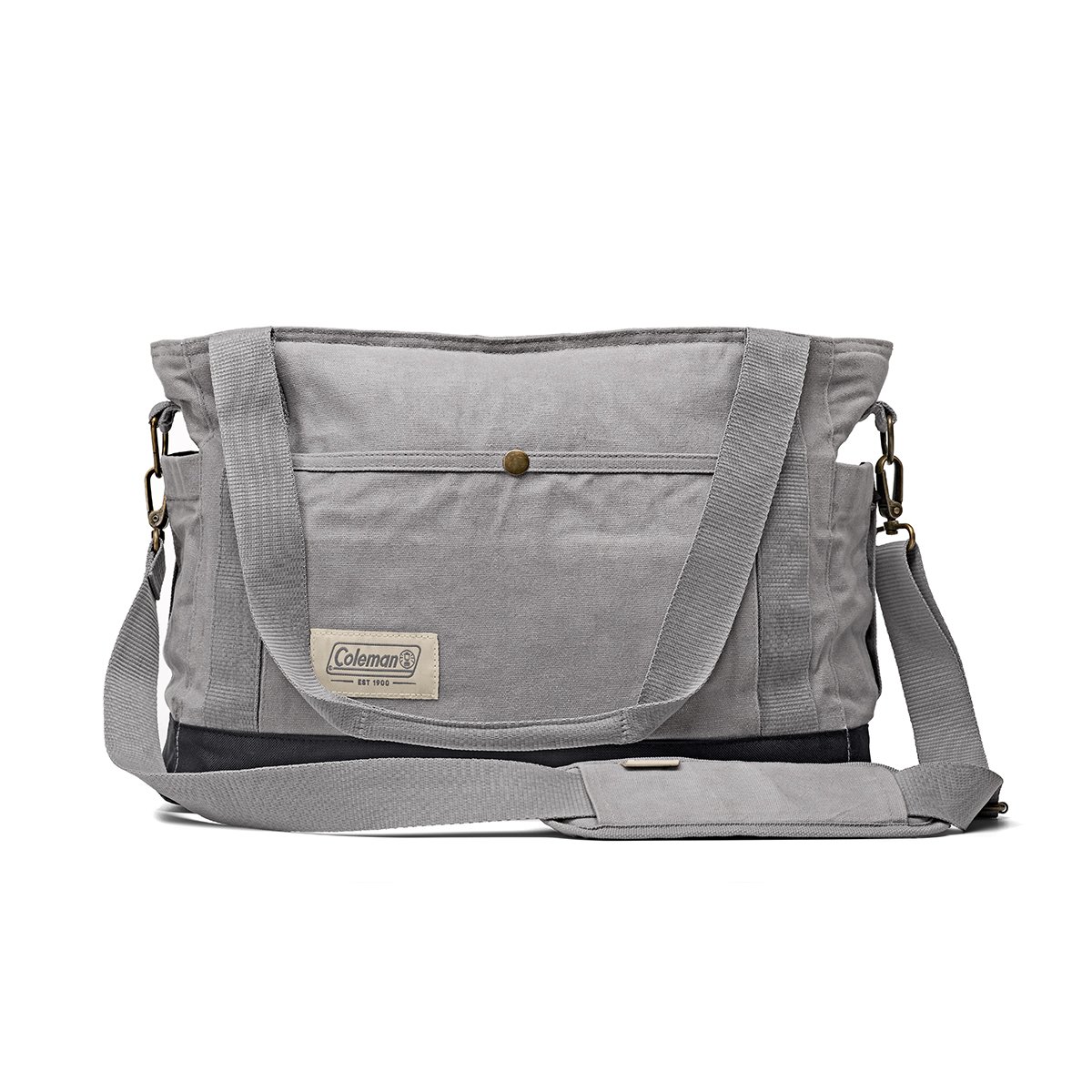 Backroads™ 30-Can Soft Cooler Tote
Final Sale: may not be returned or exchanged
This item is not eligible for return or exchange.
Final Sale: may not be returned or exchanged
This item is not eligible for return or exchange.
Want us to let you know when the item you wanted is back in stock?
By submitting, I confirm I have read and accept your Privacy Statement and I would like to receive marketing and/or promotional emails from Coleman.
Product Details
Description
Take your outside adventures to whole new level with the Coleman® Heritage™ 30-Can Soft Cooler Tote designed to offer a unique look and feel plus the premium Coleman features you just have to have. Made of sturdy waxed canvas that repels dirt and water and robust brass hardware for added support, this cooler is perfect for picnics, camping trips, or festivals. Food and drinks stay cold for up to 24 hours while relaxing at the campsite after a long hike or enjoying a hearty lunch by the lake. Going to a festival for the weekend? Weave your way through the crowd with ease thanks to the padded handles and adjustable shoulder strap. Pockets at the front and back let you stash your phone, keys, or wallet so they won't get lost and a zippered back pocket securely fits a small tablet or book. Pleated side pockets offer easy access to a water bottle or sunscreen and they compress down when not in use. The antimicrobial leakproof liner helps prevent odor, mildew, and mold so you can feel confident making this a go-to cooler for years.
Waxed canvas exterior repels dirt and water; robust brass hardware for added support
Main compartment keeps food and drinks cold up to 24 hours
Padded handles and adjustable shoulder strap for comfortable carrying
Front pocket keeps contents dry and offers easy access to small items such as a phone, keys, or wallet; pleated side pockets fit a water bottle or sunscreen and compress down when not in use
Zippered back pocket securely fits a small tablet or book
Protective finish on base of cooler adds durability and is easy to clean
Antimicrobial liner helps prevent odor, mildew, and mold from forming; interior heat-welded seams prevent leaks
Holds up to 30 cans
Rated

5

out of

5
by
Anonymous
from
Multifunctional , fashionable, and portable cooler
Loving this product from Coleman. We have plenty of room for a 12er and some snacks. The outer layer is fashionable and has a great feel. The ice used inside doesn't leak out due to a solid inner liner. There are plenty of pockets to separate out essentials from getting wet as well when the ice melts. The strap is also of great quality and doesn't cut into your shoulder when transporting the cooler from place to place. Great for camping, hiking, boating and party hopping.
Date published: 2021-03-04
Rated

5

out of

5
by
Bqwee
from
HERITAGE SOFT COOLER
This cooler is beautiful! It looks more like a tote and has two straps. 1 hand strap and an adjustable shoulder strap with a pad for comfort. Its large enough to carry a bunch of cans as well as snacks. It has a leak proof liners with 2 water bottle pockets on the side. Also a front button pocket to store items in as well as a backside zipper pocket. The quality is superb! It looks small but once you open it up you can see there's a lot of room in this cooler.
Date published: 2021-02-25
Rated

5

out of

5
by
Bcooper81
from
Very durable and stylish
I got this for a few reasons. One of those reasons is because we have to travel far for doctors appointments and we can keep our stuff cold perfectly. I also love this because there are some days I substitute teach and I like to each lunch with my twins at school. It gives me plenty of space to carry enough lunch for all three of us. Its very stylish and it doesn't feel like I'm carrying a lunch bag. Perfect for your weekend getaway or lunch in the park.
Date published: 2021-02-28
Rated

5

out of

5
by
mshell0123
from
Not bad!
This was a lot smaller that I thought it would be. However, when I travel and pack drinks for my children for a long car ride, something of this size would actually fit better in my vehicle that what we were using before. It is slim, so it doesn't take as much space as my older cooler. Also, the fact that it is soft, provides more flexibility to squeeze it into smaller spaces. It will keep our drinks and snacks nice and cool for those long travel days.
Date published: 2021-03-01
Rated

5

out of

5
by
2thclnr
from
I love this style!
I love the way this Coleman Heritage cooler looks! The gray is kind of rustin looking. The foam seems a little thinner than some but it definitely kept my drinks cool. There are several pockets including 2 stretchy ones on each side. I did not put 30 cans in it, as that would be very heavy, but I am certain it can hold that amount. I love the padded shoulder strap bit also has two shorter straps if you want to carry it that way!
Date published: 2021-03-05
Rated

5

out of

5
by
Shae83
from
Lots of storage space!
This Heritage Soft Cooler is perfect for traveling! My family and I love to travel a couple of times a month and this cooler holds all the drinks, food, and snacks we need for our road trip. It has a long adjustable strap and is is really easy to carry. This bag is made of excellent quality and super durable. I like that it has a really nice, modern day touch to it and it is super easy to clean, which is a plus for me.
Date published: 2021-03-01
Rated

5

out of

5
by
Dearl
from
Well made and durable
The HERITAGE SOFT COOLER 30CAN TT GREY is the perfect cooler for any outdoor fun. I took it this past weekend on a Jeep wheeling trip and it worked great. I was able to carry enough water and cold drinks for the day as well as sandwiches and snacks. I like that it has a zipper pouch and a button pouch for extra supplies. The canvas outer layer seems to be very durable. A great size cooler for any day trips.
Date published: 2021-03-10
Rated

5

out of

5
by
Cytharea
from
perfect carryall for all my food and bev
I needed a big tote that I could shove multiple food storage boxes into. I can even put smaller bags inside this big bag, for example, my small beverage tote that holds 3 hydroflasks gets shoved in on the side next to the food containers. It's sturdy, padded, insulated, so it won't tip over. It's also nice-looking, with unisex styling and extra storage pockets on the outside for silverware, napkins, etc.
Date published: 2022-01-07
Rated

4

out of

5
by
Cmado
from
Good quality, does the job
This little bag does not look like a cooler at all. Yet does a great job to keep food and drinks cold. This is not meant to hold a whole lot, ...30 cans, but enough for a long day out, water, snack, sandwiches, etc...Easy to carry for me, I like the options it comes with. We just wipe clean the inside after use, and leave it outside to dry if needed.. Good quality, should last us for good while.
Date published: 2021-03-18
Rated

5

out of

5
by
Cguerra80
from
Durable and Lightweight!
Used this for a family picnic in the trails. I was afraid it would be heavy and uncomfortable on my shoulder. Or too bulky. Fit comfortably on my shoulder with no pain from the weight. Was not bulky and did not swing all over the place. Kept my drinks and food very cold the entire time we were hiking. The cool gray color just made it feel lighter. Very easy to clean and is very sturdy.
Date published: 2021-03-11
Rated

5

out of

5
by
daba
from
Durable, Light, and Convenient
We have a big bulky hard shell cooler and as much as we enjoy it, it is not practical for all events. When we are hoping down to the beach for a short trip or some other outdoor activity, this cooler is the perfect cooler to bring along. We can easily load this up, carry it out, and it has a great storage capacity. We've beaten this up a bit and it still looks great!
Date published: 2021-03-05
Rated

5

out of

5
by
darlingdani7
from
Perfect for the Beach
I love my Coleman cooler! It is the perfect size to bring to the beach or to the store. The material is thick and will last for years. The strap is durable and comfortable. It is easy to wipe and clean after each use. The size is perfect for a case of cans or to chill three bottles of wine. I like that the bag also functions to keep something warm.
Date published: 2021-03-17
Rated

5

out of

5
by
desireeg87
from
Works so well!
I took this Coleman heritage 30 can cooler with me to California this past weekend. Its a 7 hour drive from where I live, we packed it with frozen water bottles, canned soda and a few little snacks. This cooler was so amazing, it kept our stuff cold ALL 3 days!! The outside material is so thick and durable. I am SOO happy with this cooler.
Date published: 2021-03-01
Rated

5

out of

5
by
Almal
from
Great cooler that fits a ton
We brought this cooler to the beach with us on Friday. I love the number of pockets it has. We live in Florida and you know it gets hott even when its Feb. Our waters and food stayed nice and cold. It had enough room for our family of 6's food. It also has a great handle perfect for longer walks as it didn't hurt our shoulders
Date published: 2021-02-22
Rated

5

out of

5
by
Dad2eight
from
Easy to use
My wife and I personally love this cooler! It's the easiest thing to pack the kids some snack and drink's in for a day trip! It is also a convenient on size! It's easy to carry and it fit's in the small area of the car with all the kiddo's! Very well made product that I'm positive will last a long time!
Date published: 2021-03-09
Rated

5

out of

5
by
Lexi20
from
It's great
We love this cooler for the simplicity of it, it does exactly what it says, keeps our drinks cool for such a LONG time. I like how easy it is to carry. The best part to me is how great the materials are it is very durable and you can tell it was made to last. I highly recommend this cooler bag. 10/10
Date published: 2021-03-14
Rated

5

out of

5
by
Clbr
from
Nice
This Coleman Heritage Soft 30 Can Cooler is really really nice. It is extremely insulated. The outside material seems to be suede or something like it. This cooler will definitely keep your drinks and food cool. There are also zippered pockets on the sides. I would definitely recommend this cooler.
Date published: 2021-03-06
Rated

5

out of

5
by
joovalle
from
Beautiful cooler
I loe this cooler it is very spacious and keeps the drinks cold. It is a tote that is easy to handle and easy to access no fumbling with those big bulky coolers. Very well made and easy to clean if you get something on it, perfect for and outing or going to the beach.
Date published: 2021-03-16
Rated

5

out of

5
by
Bennysmom
from
Cool
This was used for an outside event to carry drinks in .It kept my drinks nice and cold .Love the color and it's the perfect size i can carry 30 can in my Coleman bag .also carried a few snacks in it.I am vet pleased with it .Irs strong and convenient.
Date published: 2021-02-23
Rated

5

out of

5
by
Nikkisblu
from
Adorable and stylish
This bag is so awesome. The size of the bag versus the capacity is perfect for glamming with the girls. The bag has a corduroy exterior in Gray and a cross body length shoulder strap. It's got the Coleman brand security in a very stylish look.
Date published: 2021-03-04
Rated

5

out of

5
by
Greeneee0
from
Good cooler
We wanted this soft cooler for something we could take on the boat. It worked great for holding drinks and snacks. Everything inside remained cold and we had no problems with leaks. The shoulder strap sat comfortably in place when carried.
Date published: 2021-03-27
Rated

5

out of

5
by
Nikchm3
from
Fashionable
Love this bag. It's not bulky, I can take to the grocery store to pick up small refrigeratorable items. I can take it with me on road trips or just a day out. Keeps everything nice and cold. Very fashionable, hardly know it's a cooler bag
Date published: 2021-02-28
Rated

5

out of

5
by
Tooth fairy
from
Great looking
This is a stylish upgrade for your camping needs. Great capacity, and lightweight. It's reasonably dirt and grime resistant! I've also used it as a regular bag from time to time , and it does well with snacks and diapers lol
Date published: 2021-03-16
bvseo_sdk, dw_cartridge, 18.2.0, p_sdk_3.2.0
CLOUD, getReviews, 0ms
reviews, product
product-detail-view
oos-pdp