Deluxe Tabletop Propane 2-in-1 Grill/Stove, 2-Burner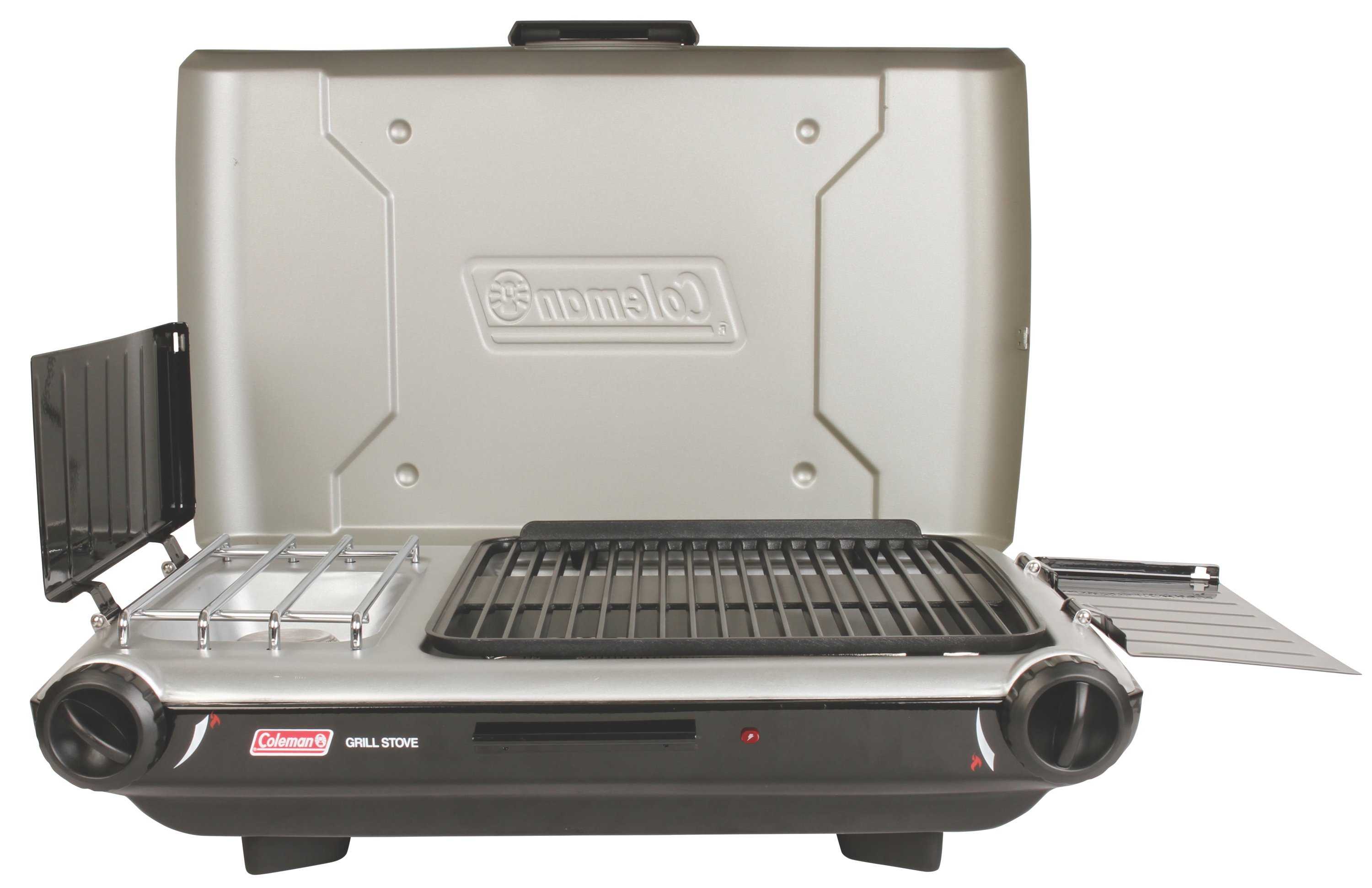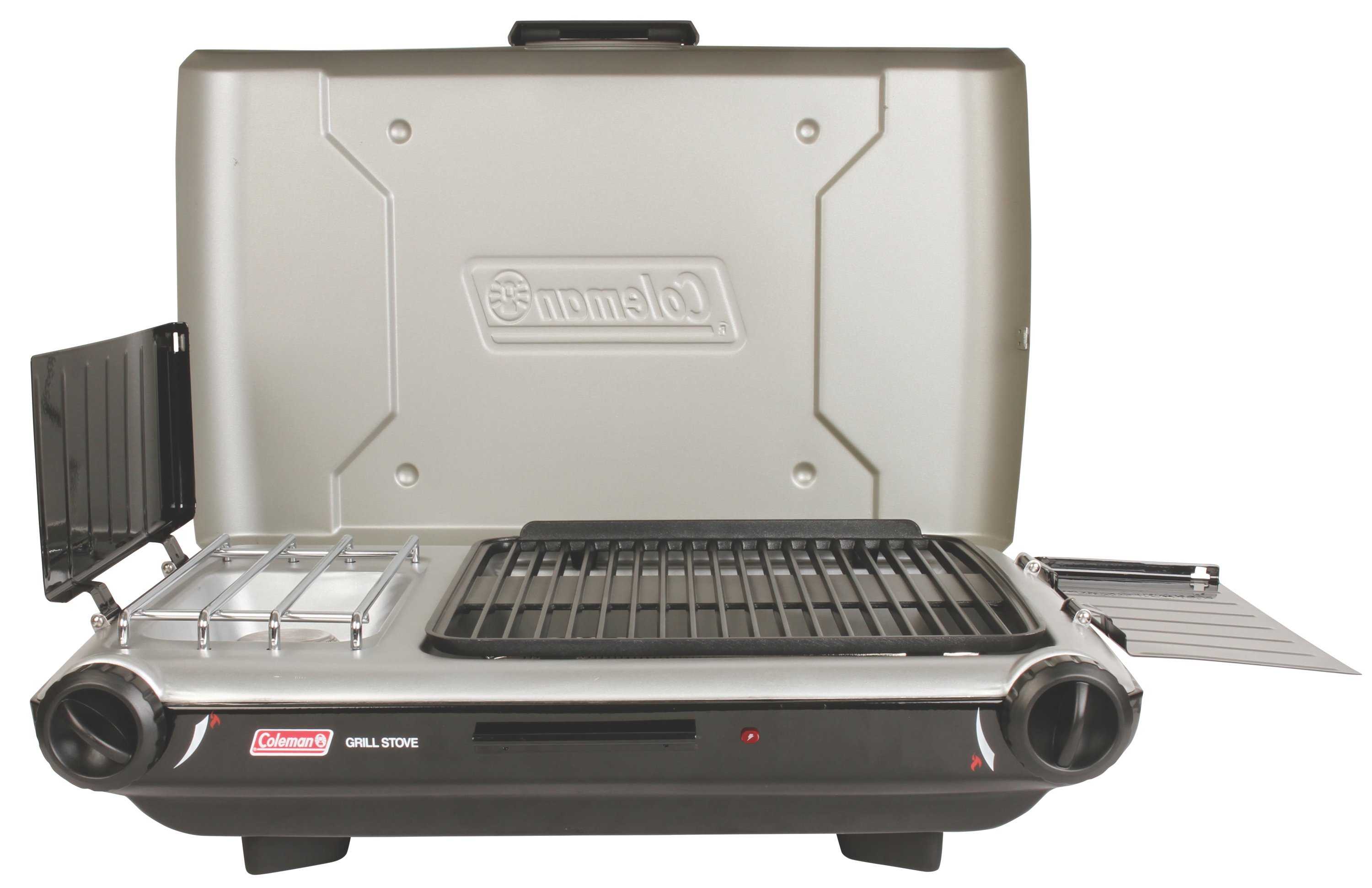 Deluxe Tabletop Propane 2-in-1 Grill/Stove, 2-Burner
Final Sale: may not be returned or exchanged
This item is not eligible for return or exchange.
Final Sale: may not be returned or exchanged
This item is not eligible for return or exchange.
Want us to let you know when the item you wanted is back in stock?
By submitting, I confirm I have read and accept your Privacy Statement and I would like to receive marketing and/or promotional emails from Coleman.
Product Details
Description
Cook and grill simultaneously with the Coleman® Tabletop Propane Gas Camping 2-in-1 Grill/Stove, 2-Burner. Thanks to the Instastart™ push-button ignition system for matchless lighting, you'll be cooking with up to 20,000 total BTUs in no time. The stove surface fits a 10-inch pan, and the 130-square-inch grill area leaves plenty of room for grilling. WindBlock™ panels help shield your flame from wind, and they also fold down to use as side tables. All of this in one compact design that sets up easily at the campsite, tailgate, or in your backyard.
2-in-1 design so you can use the grill and stove at the same time
130 sq. in. grilling area; stove fits 10 in. pan
Up to 20,000 total BTUs of cooking power
Instastart™ push-button ignition for matchless lighting
PerfectFlow™ pressure regulator for consistent performance, even in extreme conditions
PerfectHeat™ technology for more efficient cooking with less fuel
2 adjustable burners for precise temperature control
WindBlock™ panels shield burners from wind or fold down for use as side tables
Rust-resistant aluminized steel cooktop
Easy-to-clean removable grease management tray
Runs up to 1 hour on high on one 16.4 oz. propane cylinder (sold separately)
3-year limited warranty
Recommended Use
Camping, Beach, Tailgate, Park
Rated

5

out of

5
by
snowsims146
from
HONEST REVIEW!
This is a great for grilling on the right and heating up something in a pot on the left. Its lightweight, easy to use, and cooks fast! PLEASE READ: Most of these people who gave this a bad review because the grate on the right melted, don't know how to read directions. It specifically states on the cover not to put a pot over the grate on the right. You cook right on the grill on the right side of the Grill/Stove. The right is great for cooking burgers/steak/chicken/bacon/etc.
Date published: 2021-02-07
Rated

1

out of

5
by
Nory
from
Disappointed
I bought the Coleman camp grill stove a month ago. Just using it and the grill just melted!! It even turn blue. We did bought the coleman because of the camping reviews and warranty but are VERY DISAPPOINTED.
Date published: 2021-04-05
Rated

1

out of

5
by
Local farmer
from
It melted
I got this grill and stove to take camping and the very same day I got it it melted. Normally Coleman is a very relatable company but I will not be buying another portable stove from them after this one melted.
Date published: 2020-11-01
Rated

1

out of

5
by
PamB
from
Used three times broken
Used this three times and thought it was a great buy. Now I regret buying it. On the three trip it used so much gas that I didn't have enough to finish my meals. Tried to take it back to Walmart but I didn't have my receipt. I think it's the regulator that went bad because it didn't stop all the gas to leak off. Very disappointed and not worth the money.
Date published: 2021-05-31
Rated

1

out of

5
by
ROBWANDA
from
It melted!!
the second time i used my grill the rack melted. Unusable!! What the heck happened?? I have tried to contact coleman and have not heard back from email, can't get through on phone, on line chat says its not avaliable at this time. Very disappointed for a company I have trusted for so long. I would NOT recommend this product.
Date published: 2020-09-07
Rated

5

out of

5
by
Rogue71
from
Absolutely love this grill
Been using these for about five years now - liked it so much I bought a second one - great for the car/canoe camping i do every year - I gotta also say with its smaller size I actually put it in my fireplace and grill during the colder months - works perfectly.
Date published: 2021-05-13
Rated

1

out of

5
by
Kmac
from
Not worth the money
I used this grill for camping and by the 3rd use the grill nearly has a hole in the middle it is so warped and melted. It is unusable at this point. Not covered by warraranty. Disappointed.
Date published: 2018-08-26
Rated

4

out of

5
by
thinkdriver8
from
good product for intended use
going on 3rd season with this combo, used at least 20 times and it has never failed me. lights reliably even in light wind. grill side stays hotter on the right (nearer the valve) and cooler on the left but I just rotate food and keep an eye on it. burner is good for small to medium sized pot. ability to adjust flame at lower settings could be better but I've never found a propane grill that I think is adjustable enough. decently durable - this thing ain't going up Everest or anything but for the casual car camper or RV'er who wants to cook outside it is light, portable, and a good middle range grill. the drip tray has fallen out when carrying, which is bothersome, but not a deal breaker. Coleman makes good, mid-range stuff, set your expectations accordingly. No idea how the other stoves melted but I've not had it on high for hours at a time. Recommended, with proper expectations.
Date published: 2020-06-18
Rated

4

out of

5
by
Kombi
from
Lasts and starts every time
Ours is from 2005 - so 14 years so far Have had zero issues, and still satrts everytime with push of the button
Date published: 2019-07-04
Rated

1

out of

5
by
Camper223
from
Regret the purchase
Don't expect to find any accessories for this stove. Advertised accessories are unavailable. Bad purchase.
Date published: 2020-09-26
Rated

5

out of

5
by
SKWood
from
Portable & Easy to use.
We use this on backcountry hunting trips. Is easy to use & packable.
Date published: 2019-02-06
Rated

4

out of

5
by
NoPotOnTheGrill
from
Love the grill/burner combo
The Coleman stove/grill I bought 20 years ago finally went kaput. I bought another combo and love it as much as the first one. I have never put a pot on the grill half (why would you put a pot on the grill when there is a burner?) and the grill works perfectly and does NOT melt. One star off because when turning the flame down, after you release the knob the flame goes up a bit, so more accurate control is needed.
Date published: 2021-11-23
Rated

4

out of

5
by
Kurt87568
from
Does the job. No issues.
I have owned this for couple of years. I have used the grill side for burgers (Fits 4-5) steak, pork, shrimp, scallops, etc. Does the job. No issues. I am writing this because I think the 1 star reviews are unfair. Aluminum melts at 1200 Deg F. Don't believe the sob stories. Don't use cookware on the grill side and it will be fine. However, if you need more versatility then consider a Coleman RoadTrip.
Date published: 2021-11-24
Rated

2

out of

5
by
DenisS
from
Significant step back from older models
First of all - replacing the cast iron grill grate with the aluminum one is the worst ever decision made by Coleman! As one can tell from the reviews, these grates are extremely unreliable. I will have to see if I can buy a used cast iron one... Second - the customer support. It is sub-par to say the least... I have a lot of Coleman products (tents, chairs, lights, stove - you name it), and I buy them to last, which means I want reliable support. I sent a message asking about the carry case and optional griddle for this stove, and received an unhelpful suggestion regarding the case, and a link to buy a griddle that does not fit this stove. It is is the user manual - how could you hire associates that don't know basics about Coleman products? And of course I never heard back after I responded to that message... Feels like I will be looking for an alternative brand that's more reliable.
Date published: 2021-01-31
Rated

5

out of

5
by
Imran
from
Wonderfull Grill/Sove Combo.
I used the grill for chicken and beef steak, it is really fast cooking. While using the grill I also fried some samosas at the same time with an amazing result. It took me less than an hour to cook 3 lbs of chicken pieces, 2 lbs of beef steak and approx. 15 pcs. of Samosas for 12 people, and then later I used it to boil water for tea and coffee. It is a good equipment for camping and picnic.
Date published: 2020-08-17
Rated

1

out of

5
by
Sandy B
from
Not as we hoped this product performed
This was an utter disappointment. Would not recommend it. It could not take the heat of bbq, steaks, hamburgers.
Date published: 2018-07-28
Rated

1

out of

5
by
Bscrizz17
from
Griddle melted on 4th day of use
Bought it for camping at the end of last season so we could use it this year. First of all, I unpack it and there is no screws for the legs. Then the 2nd time we go camping, I use a camping toaster on the griddle side and the griddle warps. Then during supper, I used an aluminum slotted pan on it and it completely melted the griddle.
Date published: 2020-06-06
Rated

4

out of

5
by
DGWG
from
Excellent space saver for RVing
We bought this to replace a much bulkier unit for our RV and it's worked out great. I wouldn't want to be grilling for a large crowd but for 2-4 it's fine. We also have a standard Coleman stove for greasy outdoor frying so we've only used the new unit for grilling and have had no problems with the grill melting as others have.
Date published: 2020-08-13
Rated

1

out of

5
by
Mike & Jess
from
Propane 2-in-1 Grill/Stove Melt Down
Used this twice and grill literally melted in the center, and the knob for the burner could not adjust, was either off or full. can't bring back to where we purchased it due to no box. very disappointed in this product as Coleman usually has a decent product. Coleman support please contact me via Email to resolve this issue.
Date published: 2021-09-24
Rated

5

out of

5
by
TWare
from
Fast and Efficent!
My husband got this for Fathers Day as our Coleman stove was very old and the knobs are off it( which I'm hoping someone can tell me where to get some so I can give the old one away as it still works) This stove is amazing! So fast and cooks anything!!!Buy one and you won't regret it!!!
Date published: 2018-07-03
Rated

1

out of

5
by
Tash
from
Melts!!! Do not buy
Five thousand levels of what the hell. The grill not only melted but also disintegrated on the 4th use. How does that even happen? My plastic spatula held up better to the heat, my metal dollar store tongs felt nothing . But the grill that came with the barbecue.... Not so much
Date published: 2021-08-18
Rated

1

out of

5
by
Mel33
from
Grill melted on the second weekend of use
Bought it for camping to replace my other broken Coleman 2 burners stove. The 2nd time I went camping I used it to cook supper and the grill melted the first night! Very disappointing! I thought it was perfect with the grill side!
Date published: 2021-07-22
Rated

2

out of

5
by
polskibear
from
a good product for its intent
the grill performed very well. would like a little more control of burner temperture on grill which can get fairly hot. A nice compact grill for many uses. Definetly recommend
Date published: 2021-07-02
Rated

5

out of

5
by
jerry
from
excellent stove in camping
very happy to have this in my first summer comping this year, easy to use like in home , strong fire let me cook /grill everything satisfied. recommend!
Date published: 2018-08-14
Rated

1

out of

5
by
Lemon
from
Bad quality
Purchased it for my husband b.day. The grill bars melted in a few seconds. No bbq, no b.day. very upset.
Date published: 2021-09-22
Rated

2

out of

5
by
Charled
from
Started to melt
We have been using this grill for a couple years and it was working as expected until it bagan to melt.
Date published: 2021-09-12
Rated

5

out of

5
by
Darlene
from
Windy weekend
Spent the long weekend camping and it was very windy. The stove worked great. It didn't go out once.
Date published: 2018-05-23
Rated

1

out of

5
by
greg
from
stove arrived damaged and grill warped
grill was damaged upon arrival, The grill warped after second use.
Date published: 2018-07-20
Rated

5

out of

5
by
Outdoors
from
Well built
Grill portion stays at a consistent heat, and it's easy to light.
Date published: 2018-07-23
Rated

1

out of

5
by
bmac
from
Flimsy materials
Grill side melted/distorted after second use while camping.
Date published: 2018-08-23
bvseo_sdk, dw_cartridge, 18.2.0, p_sdk_3.2.0
CLOUD, getReviews, 0ms
reviews, product
product-detail-view
oos-pdp