RoadTrip® X-Cursion 2 Burner Propane Gas Portable Grill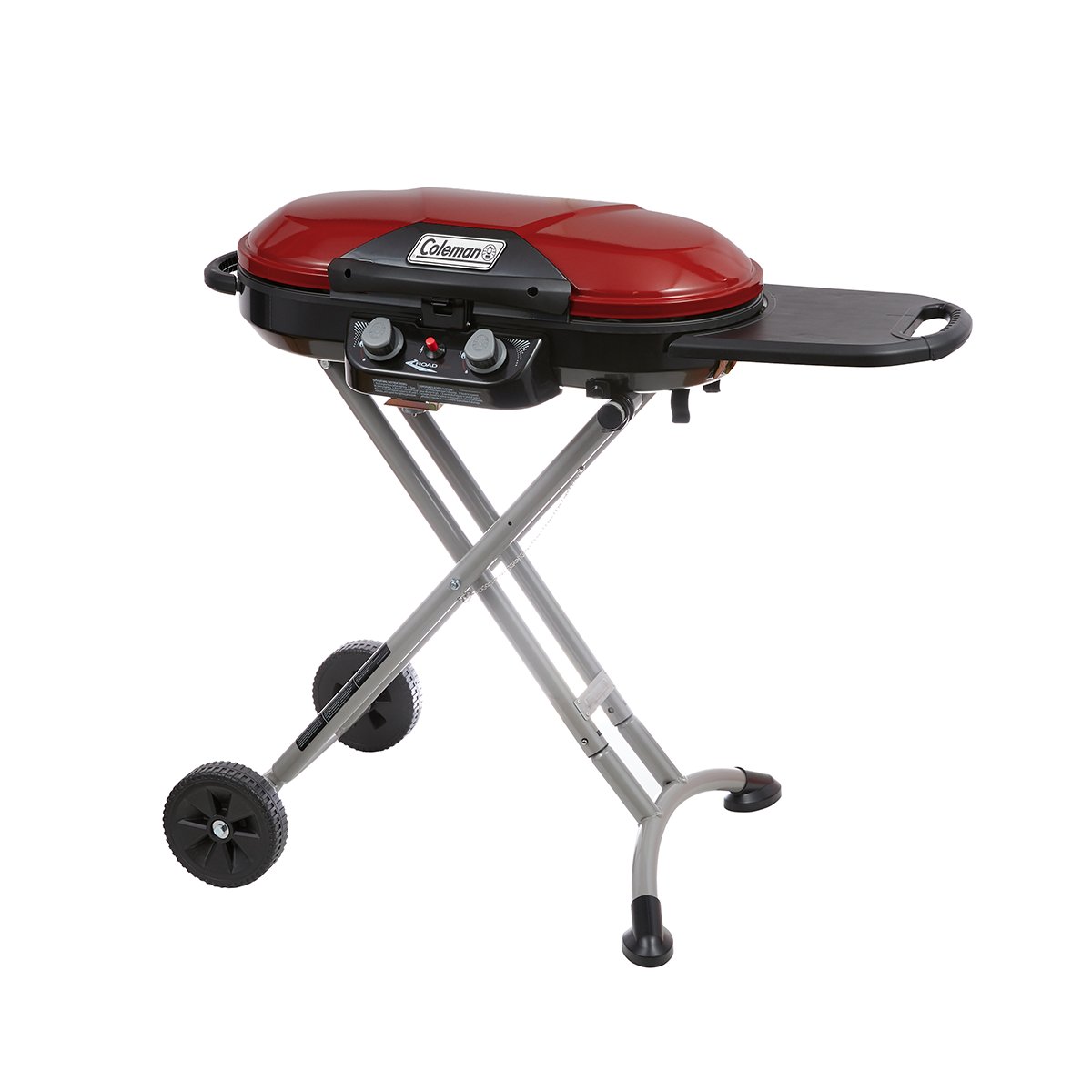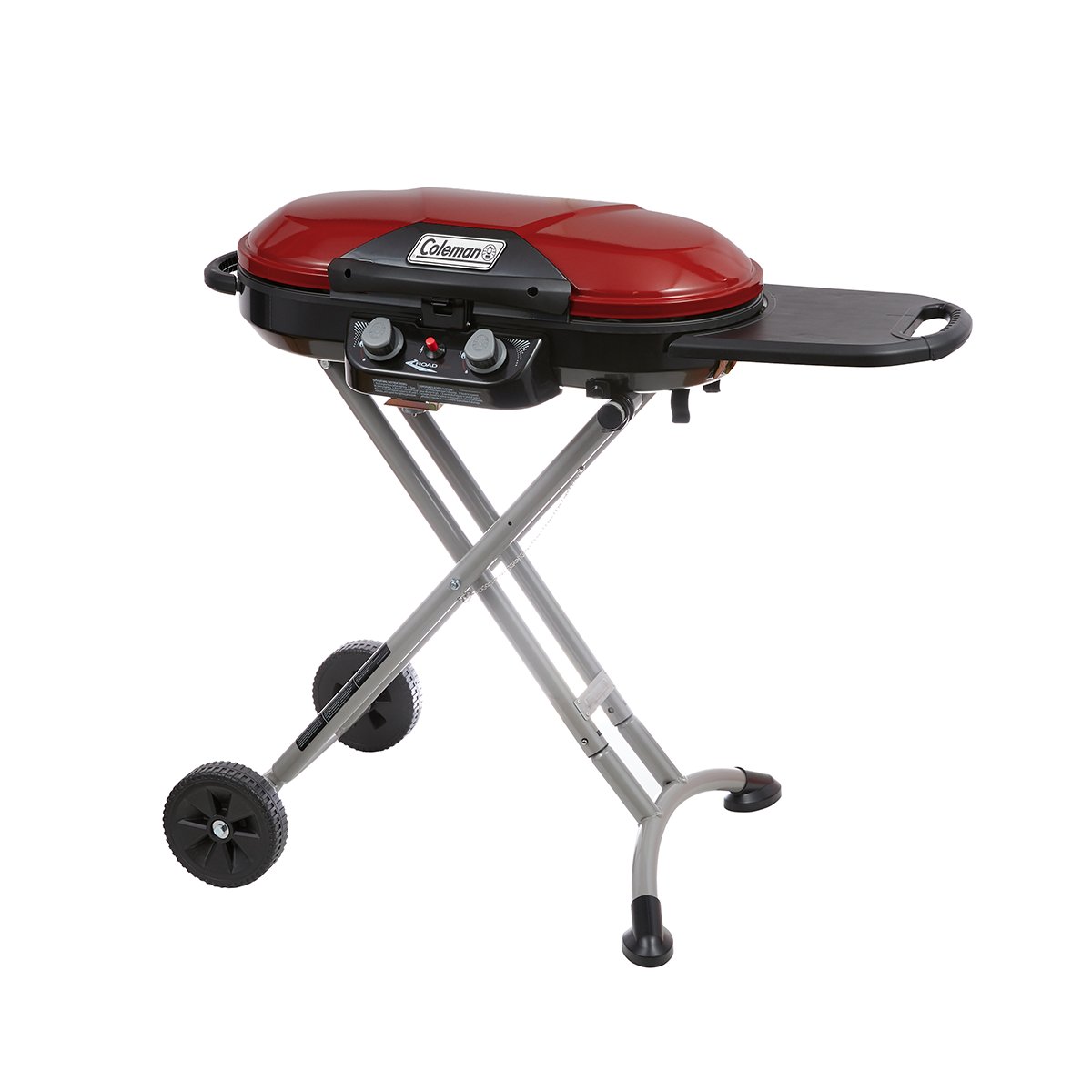 RoadTrip® X-Cursion 2 Burner Propane Gas Portable Grill
Final Sale: may not be returned or exchanged
This item is not eligible for return or exchange.
Selection will refresh the page with new results.
Final Sale: may not be returned or exchanged
This item is not eligible for return or exchange.
Want us to let you know when the item you wanted is back in stock?
By submitting, I confirm I have read and accept your Privacy Statement and I would like to receive marketing and/or promotional emails from Coleman.
Product Details
Description
Rule the campground, park, or the parking lot when you fire up your Coleman® RoadTrip® X-cursion™ Propane Camping Stove. This portable grill with collapsible steel scissor legs and a low-profile design make moving it around as easy as flipping a burger, while the rugged, off-road wheels handle almost any terrain. Once you're at your grill site, 285 sq. in. of porcelain-coated, cast iron grills are waiting for anything you can throw at them. Just hit the Instastart™ push-button ignition and dial in your heat with the two independently adjustable burners. Turn up the heat with 20,000 BTUs of grilling power that delivers it consistently across the grill surface thanks to the Even-Temp™ burners. If you're looking for more meal options, the Swaptop™ interchangeable cooktops let you change out one of the grill grates with a griddle or stove grate (both sold separately). When it's time to head home, the DripTrap™ removable water pan catches all the grease for easy cleaning before you go. Fold this grill up and it will store out of the way until you head out to your next summer cookout.
Compact and portable for camping, tailgating, cookouts, and beach parties
Independent, adjustable double burners deliver 20,000 BTUs of grilling power
Swaptop™ interchangeable cooktops for more meal options (griddle, full-size griddle, and stove grates sold separately)
Even-Temp™ burners radiate heat equally across the grill
DripTrap™ removable water pan catches grease for easy cleanups
Instastart™ ignition for push-button, matchless lighting
Steel legs with oversized wheels fold for compact storage and easy transport
Recommended Use
Camping, Beach, Tailgate, Park
Rated

5

out of

5
by
HARRY24
from
very mobile and very well made.
purchased for our weekend outings with our grandchildren....love it. A little heavy for a 75 year old but I have help. already purchased the grates and cover.
Date published: 2019-02-06
Rated

1

out of

5
by
Mikeyj1313
from
Stay away
First one I recieved had an uneven flame.....said there were no replaceable parts. Coleman sent me a new one and within a year the drip pans are shot (not replaceable) and the regulator is bad. I only use this grill while camping maybe a dozen times, and I ways kept it out of the elements and covered.
Date published: 2020-03-30
Rated

5

out of

5
by
Justin
from
Great grill
I bought it for the camper but use it most of the time. I want to get the griddle plates for it for other meal options.
Date published: 2018-05-16
Rated

5

out of

5
by
Randy64
from
The perfect Mighty Little Grill
I can't have a full size grill at my townhouse. Being a bachelor and not cooking a lot of food at one time this grill is perfect for me. Grates clean up easily. I love the drip pans they are easy to clean and wipe off. Cooking on low is best and if it gets too hot while cooking I just turn the burner off and it usually finishes cooking on it's own. I ❤️ This grill.
Date published: 2019-09-02
Rated

2

out of

5
by
Peter S.
from
Not a good product
the grill only lasted about a year, before the water/grease pan starts to rust. he left burner stopped working, very hard to get a replacement P/N 5010003363 it comes up with a different part. very poor support. Coleman is a big company and it take for granted that people will return as customers, not the case with me. i'm so dissatisfied with this product.
Date published: 2020-08-04
Rated

1

out of

5
by
Mrsimfeld
from
Good till it wasn't
Had this barbecue for a little over a year, heat controls are less to be desired. Grease drip pans RUST within 3 months of use. NO REPLACEMENT PARTS AVAILABLE TO FIX. Therefore rendering the grill unusable. Total waste of money. Ignitor when out twice in the first yr of use as well, I'll take my money elsewhere for my next grill purchase.
Date published: 2021-01-24
Rated

5

out of

5
by
Fhernandez6737
from
Bring it everywhere
I take my family camping at least 5 times a year. No matter where we go, bring our RoadTrip XL with us. In my toyota PRIUS.
Date published: 2019-10-30
Rated

5

out of

5
by
Rogaor
from
Great to travel with
It's a great travel grill, very lightweight and easy to set up. We live in a apartment and it's easy for us to store it after it's use. The wheels are super helpful for easy moving and the side table fits a cutting mat or plate.
Date published: 2021-03-24
Rated

2

out of

5
by
Bawbhd
from
No Parts
Loved this BBQ until I needed parts. Catch pans are stupid money $22.00 each plus shipping. For thin tin. If you need a burner. Forget it!! Not available. So it is now junk.
Date published: 2018-12-05
Rated

5

out of

5
by
Margi
from
Great portable grill!
We are always on the go, camping, road tripping, etc and love to grill at home as well so this road trip grill is perfect for us! Assembly was super easy and required zero tools because everything was included. We were grilling in no time. Easy to start up and throw some burgers on. The little side table is perfect when we don't have much table space around for prep. Easy to fold and roll around for storage. With the space saving design, the lid isn't as tall as a normal grill so stacking buns, etc in foil is a little tight to close the lid. We had a hose for a buddy heater to use the bigger 20lb tanks with a 1lb appliance and it works with this as well so that's what we use at home to save the 1 lb containers for on the go. The grill feels well made so hopefully it will last us years!
Date published: 2021-03-16
Rated

5

out of

5
by
Anonymous
from
Love It
We have this stored in the storage compartment of our new travel trailer. We're the type of campers that love to grill out hamburgers and steaks out in the wilderness. The grill worked great when we had the single propane bottle attached to it. We have an attachment for the grill to attach to a gas connection with the travel trailer, but the flame was not powerful enough when we used it. Fortunately, the smaller single propane bottles are less than $4 each at Wal-Mart, so we go that route, and the grill couldn't be any better unless it knew how to flip it's own food on there. :)
Date published: 2019-10-17
Rated

4

out of

5
by
Kone
from
Many uses
Home grill that is also compact to bring to camps, outings and other events. Very useful.
Date published: 2019-05-30
Rated

1

out of

5
by
Wouldn't Recommend
from
Stopped working after 2 uses
Last July we bought the Coleman RoadTrip X-cursion propane grill from Canadian Tire. We only used it twice last year. The first time we went to use the grill a week ago it would not light. It would not let the propane through when you tried to light it?? The grill has always been stored inside.
Date published: 2020-08-06
Rated

1

out of

5
by
Jfeen82
from
Terrible
I bought this grill while on a camping trip because the one I had broke. I gotta say this grill is terrible. The cast iron grates are hard to clean. The drip pan is hard to clean. The grease does not come off. The grates also cook unevenly and too fast. the marinade often burns.
Date published: 2018-06-14
Rated

5

out of

5
by
Amy6201
from
Portable and Easy to Use
This grill is a great grill for tailgating or camping. The grates provide plenty of cooking area - easily enough space to cook a dozen or so burgers. The shelf is convenient and useful. The propane connection point is conveniently located and the grill heats up quickly. After the grill cooled down, I was able to clean it in about two minutes. I then easily broke it down and used the wheels on it to move it to where I am keeping it.
Date published: 2021-03-01
Rated

5

out of

5
by
Steveloat
from
Great for road trips!
We go camping and road trips every year. This is perfect for all of that!!! It is so easy to set up and put away. It is very easy to clean. You will need to get a 16.4 oz. propane cylinder to give it fuel. We have gotten about an hour to an hour and one half for each tank hooked up. It has 20000 BTUs which easily heats up the 285 sq. in. cooking surface, plenty of space for cooking for a crowd. The two burners are independent of each other, so you can have 2 different temps going at the same time, making it easy to cook a variety of food. The instastart ignition allows you to light the grill without matches. The side table is large enough to hold tools and ingredients. This grill is getting lots of use from our family.
Date published: 2021-03-01
Rated

5

out of

5
by
valey
from
LOVE this! Best grill we ever bought.
We were in the middle of a move when the COVID hit, so we had sold our grill and needed a small one to cook out on. We have owned many gas grills over the years, from expensive high end to cheap low ends and this is by far the BEST we have ever owned. It's light weight, portable, has cast iron grill plates, which we can actually char with!!! It's easy to clean. We LOVE this. We bought the blue and the Coleman canvas cover fits it perfectly. When we eventually move to our new house, we will hook it up to a 20lb tank. Buy it, You will not be disappointed.
Date published: 2020-05-23
Rated

5

out of

5
by
Anonymous
from
I am so impressed with this travel grill!
This Coleman road trip grill is great. It will be packed every trip. The propane tank is easy to hook up, and the grill gets hot quickly. I have cooked burgers, chicken, steak, vegetables, and much more with no issues. The meats cook evenly and in good timing. Even though the grill is not very big, it conveniently grills a lot of food at once. The little shelf is great for my cooking utensils and seasonings. Super easy cleanup, and it stores so compact. It is a little heavy, but the wheels make it so easy to move. Two thumbs up, great travel grill!
Date published: 2021-03-27
Rated

5

out of

5
by
Joss24
from
The perfect compact Grill!
I don't have space for a full grill at my apartment so this one is perfect, space saver and very easy to use and maintaining. The set up part was easy we follow the instructions included and got our grill ready in less than 20 minutes! I love how compact it is it fits good in my sedan and is very easy to transport. The size is great I can fit 8 burgers at the same time... it heats up fast and cooked the meals evenly I clean it right after each use for easy maintenance. It folds for an easy transport or storage!! I absolutely recommend this grill!!
Date published: 2021-03-02
Rated

1

out of

5
by
Tracey
from
Poor build.
The shelf on the right side quickly melted on our third trip.
Date published: 2020-09-05
Rated

5

out of

5
by
Flaca13
from
New gas grill
As you can see, this gas girl is very thin and convenient for whenever you want to go camping or for a day at the beach. This has been our first gas grill and well hubby prefers charcoal grills. I would of thought this one would change his mind, but he didn't like the fact that we couldn't use both side of the grills because if you place a more fatty meat on one side the other meat on the other grill would not cook evenly. We had to use one side at a time due to the fat dropping down would make the flames go really high on the other side other than that the food came out pretty good, a bit toasty but good. The assembly was pretty simple and fast and I also like that we can just stick it anywhere. The gas thank is not included we had to purchase that separately.
Date published: 2021-03-23
Rated

5

out of

5
by
AshleeC
from
Awesome space saving grill
We are an RV tripping family so we figured this would be perfect for that. We were RIGHT! This grill took me all of ten minutes to put together and I am a woman who has never assembled a grill before. You need one of those really small things of propane to use it. It folds up almost like an old school tv tray for super easy storage. This grill was very easy to roll out of the camper and use all over the camp site! HIGHLY RECOMMEND this grill to anyone and everyone I can.
Date published: 2021-02-28
Rated

5

out of

5
by
SusanRN
from
Love this grill!
Bought a Roadtrip grill a few years ago and have given it quite a workout. It has proven to grill anything I throw on it beautifully and has held up magnificently. I like it so much that when I got a camper this year, I bought another Roadtrip to take...on road trips! The new one has upgrades that show why Coleman has stood the test of time, they keep making a good thing better. Easy assembly, quick set up, grills beautifully and is very propane efficient at a competitive price. I highly recommend this grill!
Date published: 2019-10-18
Rated

1

out of

5
by
ilesliec
from
Can't find a regulator for this grill!!
This Coleman company doesn't believe in customer service. Doesn't make parts available, etc, etc. While it works, it's fine, but now that it needs a new regulator, it seems it has instantly become 'landfill'. I recommend you buy another brand that you can actually fix.
Date published: 2020-08-22
Rated

5

out of

5
by
Roll Tide Kristen
from
Works great for a college student!
This is the perfect grill for a college student. I have it on my balcony when everyone comes over for the game. Roll Tide! It is best for cooking ribs. I can place two racks on early in the morning on low heat. I have the cooking down to an art now.
Date published: 2019-10-30
Rated

1

out of

5
by
Ceci
from
Convenient
I was hesitant to get this only because I have never used a propane tank myself. Due to the convenience I got it anyway. It's the perfect size for my family. We can easily take it to the park or use it here in our backyard for a quick dinner. It feels a little wobbly at first but definitely stood up to the challenge. It is so easy to fold and store away. I also love that we are able to control the fire and cook our different foods at their perfect temp. Can't wait to see where else we can take this.
Date published: 2021-03-16
Rated

2

out of

5
by
Rboschee
from
Can't find Parts
Got this grill less than a year ago. It worked great for about 6 months when the left burner wouldn't get hot. Now both burners light but the flame is so weak it won't get hot. Unable to find any replacement parts for the burner or regulators.
Date published: 2019-09-24
Rated

5

out of

5
by
krpftx
from
Easy to use
This grill was easy to assemble and very easy to light. You'll need to get the propane separately. It folds down into a compact item making it very easy to move and store. I like that the feet are easily removed because it makes it even easier to store or pack. It is a little heavy but the wheels help and it has a handle on each side. I really love the attached tool for lighting with a match. It keeps your fingers from being burned! It's fairly sturdy and looks great. It was big enough to comfortably grill 8 average sized burgers or 5-6 steaks (depending on the size of the steak). The middle area of the grill is closed which is perfect for items that can fall through a grill. Overall a very nice addition to our camping gear but we also intend to use it for tailgating and all day swim meets!
Date published: 2021-03-10
Rated

5

out of

5
by
Evil Bob
from
Well made and thought out
Other than being able to put the legs on 3 different ways before I got it right LOL the unit is solid. The drip pan when water is used as directed cleans up easy, as for the cast iron grill awesome it holds the heat and when the meat is ready to release it will do that cleanly. Helpful hint to the grilling impaired, as far as cleanup on the cast iron...Use cooking spray and cleanup will be no problem, same with the drip pan spray with cooking spray add the water to the fill line and presto easy up easy down. Great car camping stove and for all around gatherings in general. I would recommend this product to everyone except for the faint of heart, it is weighty about 45 lbs. but that makes for a very stable platform if it should get breezy although it probably could stand in a hurricane as well.
Date published: 2020-09-28
Rated

5

out of

5
by
Doc Holiday
from
High Quality, Powerful BTU's, Durable, Ease of Use
Very convenient, high quality, durable, 20,000 BTU's, Super easy to use and transport. Quality cast iron grill plates not cheap wire grill plates. X-Frame allows for cable lock down if necessary. Slide out end plates on boths ides for plates/utensils. Dual burners with dual controls. Very convenient small propane tank holder. Propane inlet also allows for laregnr tank w/hose hook up if you use stationary on back patio. Nice color, not black like most grills. High quality thick enamel lid coating. Super Value (price vs quality) versus $400 Charbroil grills, which are cheaply made now days. I also purchased the grill cover, which is also high quality and is a total enclosure, zipper cover, not a slip over cover like most grill covers. This grill, is the BEST bang for your buck on the market today !!!
Date published: 2019-10-18
bvseo_sdk, dw_cartridge, 18.2.0, p_sdk_3.2.0
CLOUD, getReviews, 0ms
reviews, product
product-detail-view
oos-pdp